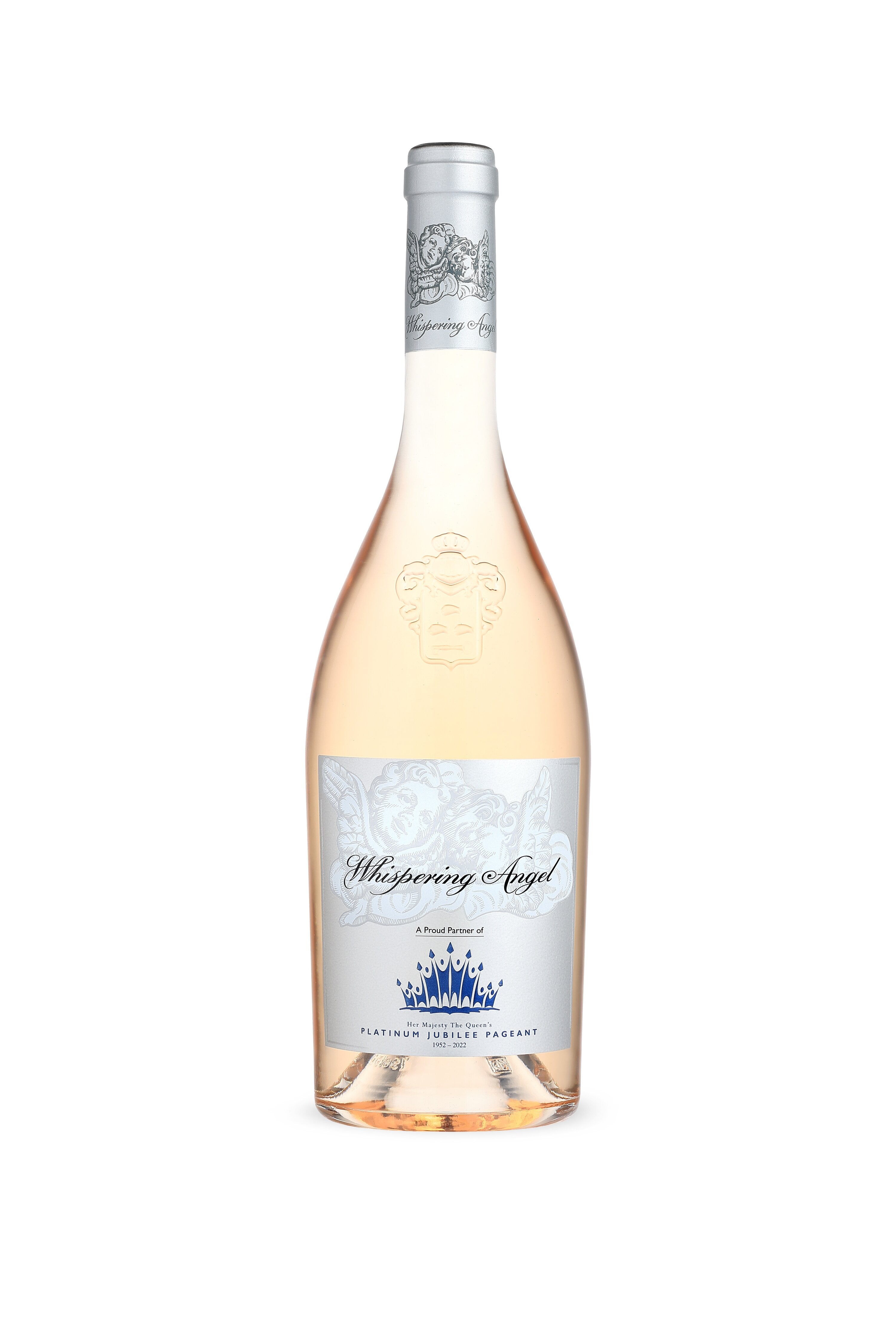 Whispering Angel Rosé 2021 - 'Queen's Platinum Jubilee' Limited Edition
Save

Liquid error (snippets/product-badge line 32): Computation results in '-Infinity'

%
Amazing new Whispering Angel Rosé 'Queen's Platinum Jubilee' Limited Edition 2021 in bottle format available for immediate delivery. The wine has just arrived from Chateau d'Esclans.
Why the Jubilee?
Whispering Angel, launched by veteran wine industry luminary Sacha Lichine in 2006, is today's worldwide reference for rosé wine from Côtes-de Provence France, which is considered to be the greatest rosé wine-producing region in the world.
Inspired in part by the strong axis between the United Kingdom and Provence, Lichine sensed that giving his French rosé an Anglican name would raise its profile significantly while amplifying its identity and appeal.
The United Kingdom played a key role in this evolution when Whispering Angel's first 2006 vintage went into distribution. Since then, Whispering Angel's prevalence in the United Kingdom has become increasingly pronounced ultimately making it the leading Côtes-de-Provence French rosé in the country.
Sacha Lichine recently stated that "The United Kingdom represents one of the greatest wine platforms and markets in the world" strengthening his unbridled enthusiasm and sense of honor to be part of the Platinum Jubilee Pageant.

The Bottle
As a proud official partner of the Platinum Jubilee Pageant, Whispering Angel's distinctive white label will become a beautifully embossed Platinum shade over the Jubilee celebration's summer period. As the Jubilee Pageant's official wine, these limited-edition Whispering Angel bottles, which shall be released at Easter time, will proudly display the Jubilee Pageant identity alongside the iconic Angels and scripted brand marque.
First taste – 2021 Whispering Angel, Caves d'Esclans, Matthew Jukes
"I was unpacking a few cases of wine on New Year's Eve and popping the bottles into gaps in my cellar when I came across a plain brown single bottle sample box. How had I missed this? Perhaps my wife had signed for it earlier in the day, and it was lost among other boxes in our hallway. There was no indication on the outside of its contents, but I am delighted that I felt moved to open it because it meant that I managed to taste 2021 Whispering Angel in the last few hours of 2021. It is oddly exciting to taste a wine when it is so young and so recently bottled, and one rarely gets the chance to taste Northern Hemisphere wines in the year of their birth. More often than not, newly bottled samples taste shocked and reticent, but these are not descriptors of this tremendous wine. I usually taste alone, but as my wife and I felt obliged to abandon plans for a party in favor of inviting a handful of neighbors around for an early evening drink, I opened this nascent Angel for a small group of us to taste. The appreciation was unanimous, and I was impressed with the many descriptors offered by our friends – after all, they are all keen wine drinkers. The overarching feeling of the group was that this was a superb effort and one which tasted delicious already but which had a seam of nervy acidity which might propel it forwards for more than just one summer, and I couldn't agree more. There has been a gradual tightening up of Whispering Angel since the 2019 vintage and in 2021 there is a wonderful backbone to this wine from which the fruit is carefully draped. With the trademark watermelon and pomegranate hints and a deeper and more structured mid-palate than was found on the lithe 2020, this is a more sophisticated wine than its crowd-pleasing predecessor. This, in turn, means that it is a foodie proposition, too, which is great news. So, my very first 2021 Provence Rosé is set to, once again, wow all-comers and this is encouraging news not least because the price has moved up from late-teens to £20 for this vintage in order to reflect its heightened ambitions."