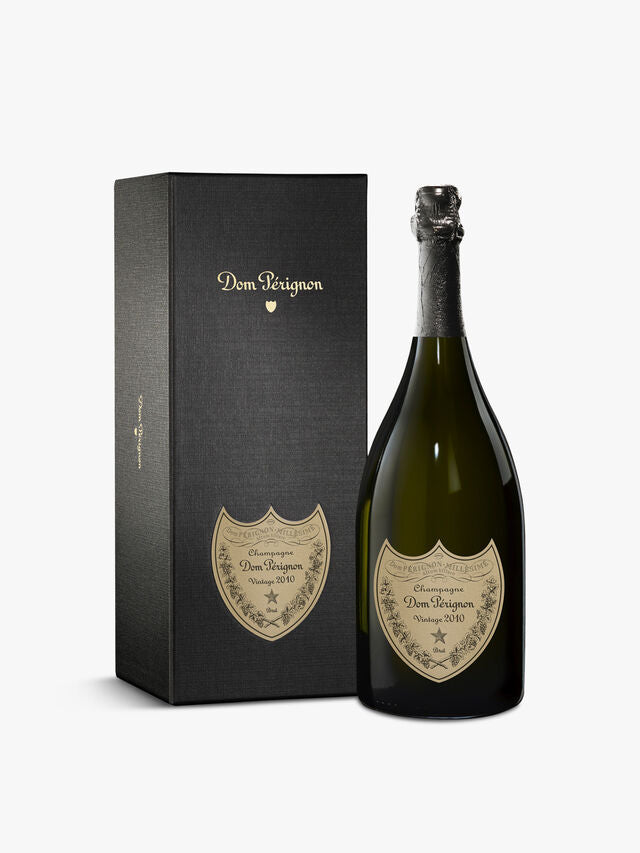 Dom Pérignon Champagne Brut 2010 Vintage 75cl in Gift Box
Dom Perignon Vintage 2010 comes to us after a summer of unusually hot and cool weather patterns, making for quite a special outcome. With its streamlined minimalism and expressive warmth, this vintage reveals pronounced fruit flavors and a well-integrated acidity that leads to an aromatic and smoky finish.
It's every bit exquisite as you'd expect and then some, so no matter where you toast, it's sure to be a special occasion.
Nose: rich in a bouquet of florals, candied fruit, toasted nuts, and candy licorice.
Palate: The palate opens up dry, yet silky soft, with notes of melon and crisp citrus.
Finish: aromatic and smoky 
Every Grand Vintage is unique and original, the Moët & Chandon Chef de Cave's personal, free interpretation of the singular qualities of that year's grapes. The House's 73rd vintage, Grand Vintage 2009, has an obvious maturity. The initial nuances of the bouquet are harvest notes and vanilla which gradually expand into darker, toastier notes (grilled sesame seeds, roasted almonds, mocha). Concurrently, hints of juicy, fleshy fruits (peaches, apricots) and a floral scent of roses and peonies round out the delicate ensemble. On the palate, the controlled power of the Pinot Noir, with notes of honey and mild spices, is underscored by a nuance of pink grapefruit.

Blend: Pinot Noir 50%, Chardonnay 36%, Meunier 14%

The date mentioned hereafter is the disgorging date of this bottle.
Dosage: 5 g/l
Dom Pérignon Vintage is the First Plénitude of Dom Pérignon, the result of over 8 years of elaboration. The harmony of Dom Pérignon is revealed.